Product News
E-Cut hybrid models join fairway mower lineup
March 14, 2019 By Mike Jiggens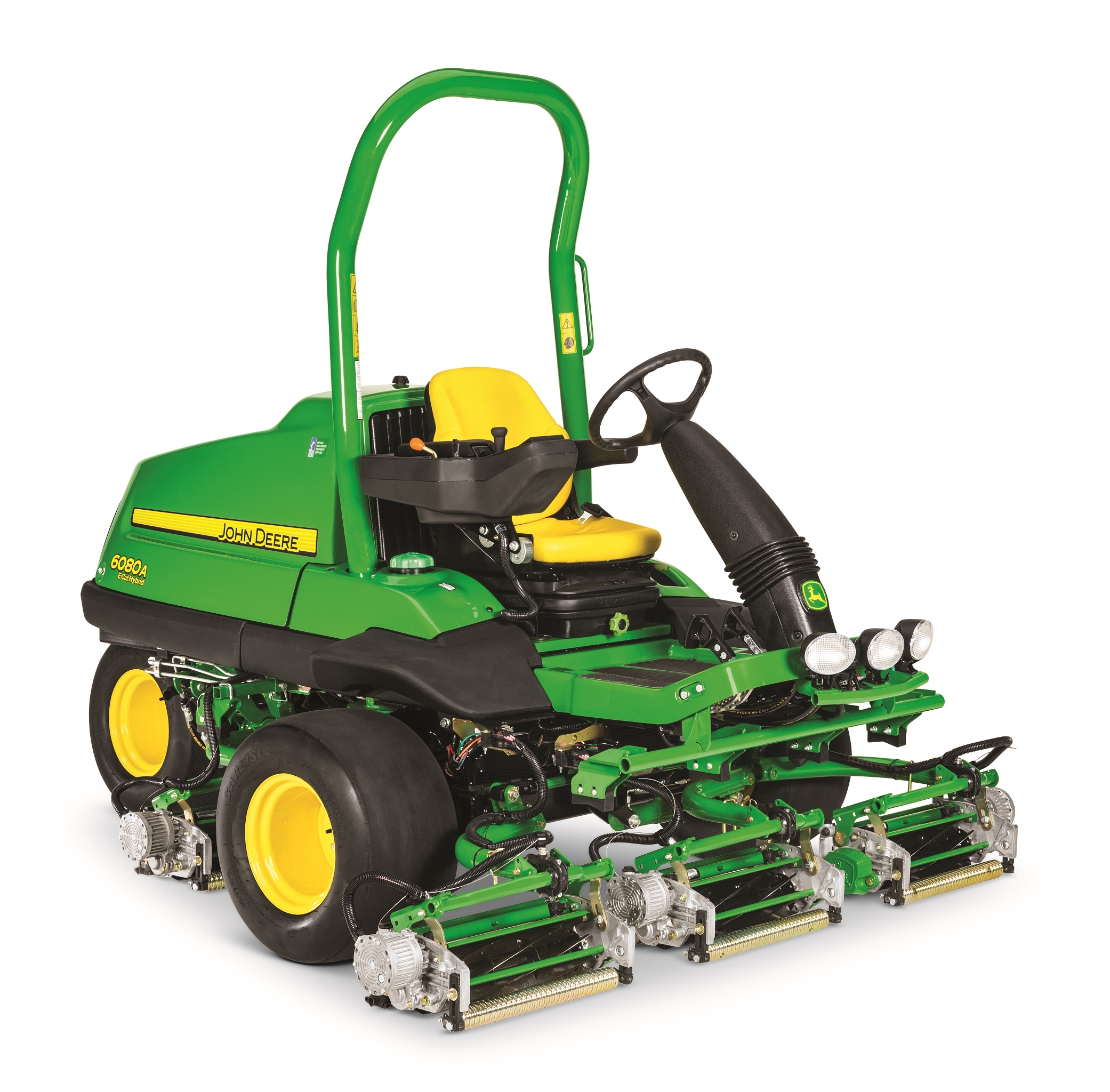 March 14, 2019 – John Deere Golf has added two new E-Cut™ hybrid fairway mowers to its 6000A Series: the 6080A and 6500A.
Leveraging technologies from the A Model family, the 6080A and 6500A E-Cut models feature high-performance electric reel drive, reducing potential hydraulic leak points to ensure productivity and performance. In addition to their economical price point, these mowers can be operated at lower engine speeds, reducing operating costs by decreasing fuel consumption.
"We're excited to bring the E-Cut hybrid mowing system to the 6000A Series of fairway mowers," Brad Aldridge, product manager, John Deere Golf, said. "Powerful and full of premium features at an economical price point, the 6080A and 6500A combine the proven E-Cut Hybrid technology with the popular 6000A Series model design."
The 6080A and 6500A models feature the electric reel drive system that John Deere first introduced in 2005 on the 2500E riding greens mower, and added to the fairway chassis with the 7500 and 8000 E-Cut hybrid fairway mowers in 2009. By removing all hydraulics from the reel circuit, the risk of hydraulic leaks has been reduced by more than 90 per cent. In addition, the hybrid system is powered exclusively by an alternator, which offers consistent performance without additional batteries to maintain.
The 6080A and 6500A E-Cut hybrid provide all-day mowing with two width-of-cut options:
•    6080A E-Cut hybrid fairway mower – 18-inch (45.7-centimetre) QA5 cutting units provide an 80-inch (2.032-metre) width of cut
•    6500A E-Cut hybrid fairway mower – 22-inch (55.9-centimetre) QA5 cutting units provide a 100-inch (2.54-metre) width of cut
Equipped with a powerful 24.7 HP (18.4 kW) diesel engine, the 6080A and 6500A E-Cut hybrid models feature three-wheel smooth tire configurations on a durable fairway mower chassis with premium performance and comfort features. The new models include standard LoadMatch™, offering the same cut quality available on the existing A Model line, even on hills. The eHydro™ transmission removes linkages between the pedals and the hydrostatic pump. A mowing speed of eight mph (12.9 kph) on both models allows operators to be more productive, mowing more area in a shorter amount of time.
Another feature adopted from the existing A Model machines is the innovative TechControl Display. The password-protected TechControl display enables turf managers or technicians to input commands, such as mow speed, turf speed, transport speed and service timers, while also capturing on-board service diagnostics. The TechControl system offers managers and technicians complete control over cut quality and performance.
Other notable features on the 6080A and 6500A models include internal hydraulic wet disk brakes, eliminating linkage adjustments and grease points in the brake system, and a comfortable operator station with Command Arm-mounted controls that adjust with the seat.
The cut quality on the 6080A and 6500A models is further enhanced with rear-attaching yokes on the cutting units and standard hydraulic down pressure, which can tackle even the toughest of mowing conditions. Additionally, the hybrid reel drive system allows for more power available for the standard GRIP all-wheel drive traction system, improving hill climbing performance.
The 6080A and 6500A models will be available for purchase in 2020. Those attending the Golf Industry Show in San Diego in February were able to preview the units at the John Deere booth. To learn more about John Deere and the 6000 Series Mowers, visit www.JohnDeere.com/Golf for the latest news and product information.
---
Print this page