Features Landscaping
Landscaping amid the COVID-19 pandemic
Businesses are moving forward in spite of the health crisis
July 9, 2020 By Mike Jiggens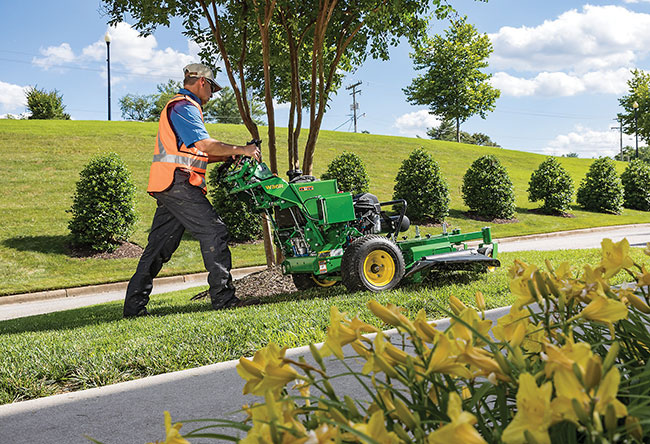 With restrictions having been relaxed somewhat across Canada amid the COVID-19 pandemic, landscaping and lawn care businesses are able to return to full service work. That wasn't the case, however, when the spring arrived and much of the country was in lockdown mode with only essential services being permitted to operate.
In several regions of Canada, landscaping was deemed "semi-essential" with only limited services contractors could offer their customers. Mowing and herbicide applications were permitted in most areas, but construction jobs were off the table to a large extent.
In early May, just as announcements were being made in each province about the pending relaxation of restrictions, Turf & Rec presented a webinar – sponsored by Plant Products – to explore how the novel coronavirus was impacting the Canadian landscaping and lawn care industry.
On board to share their thoughts and experiences about how they were impacted were three seasoned veterans of the industry, representing three distinctly different regions of the country. Webinar panelists included Chris Draaistra, franchisee for The Grounds Guys of Abbotsford, B.C.; Kathy Thomas, owner of Green Thumb Landscaping of Burlington, Ont.; and Jim Landry, executive director of Landscape New Brunswick and P.E.I.
The panelists addressed a number of issues, including COVID-19's impact on revenue, its effect on staff, the implementation of employee safety measures, and what might lie ahead, especially if a second wave of the virus becomes apparent.
The following is a condensed highlight package of the webinar panelists' assessment of landscaping and lawn care in Canada in early May.
What has been the impact on revenue during this crisis?
Draaistra: We're able to do landscaping throughout the year. We're able to do a lot of pruning over the winter. We've been mowing grass for about five or six weeks now. We starting mowing grass about the time Prime Minister Trudeau said we're looking at essential services only. The immediate impact on our sales has been fairly significant. It looks to me like people are looking to spend money, actually. We've had more calls for landscape renovations and projects than we've had in previous years. Because we're primarily a maintenance company and we do primarily commercial work in maintenance, we've seen a couple of our maintenance clients drop off. Of the about 70 we do, maybe three or four had dropped off, but our staff dropped off at the same time. We lost quite a few staff who were afraid to come in. So the financial impact was a little bit of a loss in sales, but we also didn't have to pay as much in wages, so for us it's going to even itself out.
Thomas: We initially saw in March a 28 per cent decrease year over year, and April has been a 32 per cent decrease. And that's primarily because we couldn't do the work that we would normally have been allowed to do – putting in mulches and doing some of those things and doing some enhancements that we would have started in April, and then, of course, we were shut down for a couple of weeks as well. But there are people looking down the road for us to do more work, so our sales are busy.
Landry: New Brunswick and P.E.I. have later starts than most every place west of us. We learned a lot from what was happening across the country, starting in B.C., because they always have the earlier start. When all the announcements were made about restrictions on the businesses, there was a lot of concern and there were assumptions made that it was going to drive a lot of businesses right into the ground. But things have changed. It's been a cool spring here, so most garden centres would not have opened until last weekend anyway, so they didn't lose any revenue. The companies that had an online presence and allowed for online ordering, they certainly have an advantage. Some of the other companies have scrambled to allow them to have customers online and doing curbside pickup. I think they're all pretty excited about the way things are turning out. It's much better than they had anticipated back in March.
If there were any jobs cancelled or paused, what segment were they in?
Draaistra: We have a couple of commercial clients that are very seasonal. We have a client that sells RVs, so the impact on them is going to be very significant, especially if provincial parks don't open or if Europeans aren't able to come in and rent their units. We had a number of clients that warehouse food or produce food for the restaurant industry. They're holding back. We do a lot of higher end residential, so most of those people are still working, so I think the impact on them is going to be less than those who don't own a house or rent. They'll have a bigger impact overall through this whole thing. Because of the client base we have, we've seen a blip, but it's going to come back.
Thomas: High-end residential is our niche and a lot of our work comes from regular maintenance and then enhancements and various add-on jobs as the year goes on. We look after two fairly good sized malls, and they have come back and said, 'We're going to cancel our power sweeping segment this year, and we're not going to put mulch on the beds this year, and what else can we cut out?' With our residential clients, it's been no problem at all, and we've actually picked up a few. For us it won't be a big problem.
Landry: It was mostly new construction. People were a little hesitant to move forward with that. As the spring started to roll out, most of the customers were coming back. I think it was financial worries at the start. Even if they were working, they didn't know for how long they'd be working. But I think that concern has dissipated quite a bit. Pretty much everything is going ahead. Some commercial jobs are holding off. Some municipal jobs are holding off, but residential clients are spending more time looking outside now, if not being outside. Two weeks ago, the phones weren't ringing, but now the phones are ringing.
Have you had to deal with hiring freezes or layoffs?
Draaistra: We didn't lay anybody off, but within a week or 10 days we had six of our staff who either refused to come into work or were afraid to come into work or had developed a cold or something like that, and we asked them to stay home, so that had a big impact on us. That was right at the beginning when people had no clue about what was going to happen with this thing. We gave them the time off and, as of now, we have almost all of them back. It's better to have one guy sit at home than to have the rest of the team sick.
Thomas: We did lay everybody off initially for two reasons – one, because we had no idea where things were going and I do have some people who are salaried. The government came out to be incredibly generous and remains so, so people didn't have to worry as much about what was going to happen in their future. We did it with the promise that we'd get everybody back as quickly as we could. We came back within three weeks, and we had three people as well who were nervous and didn't want to come back, but one started last week and then the other two started yesterday. We did Zoom calls with them so that everyone could get that feeling of being together and understanding that we're doing what we can and that we care about them. We had hired three new people as well and managed to do the onboarding, and they're right now at the training stage.
Landry: A lot of our companies up until two weeks ago were doing the onboarding, so they found other ways to do that. People who were coming into the shop could come in and work on their own. There wasn't a great deal of work to do because there was a lot of concern about how many trucks were they going to need or how many tractors were they going to need. Once that was all straightened out – within the last two weeks – I don't know of any companies that had mass layoffs. I think it's balanced with the number of people who voluntarily stayed home. I don't hear HR being an issue, and in typical years that is the biggest issue that we have in our industry.
What protective measures have you implemented for your staff?
Draaistra: We're doing our best to disinfect equipment throughout the day and wash hands throughout the day. It's almost impossible to find face masks still, so we have balaclavas that we use. We work in one of the safest environments you can possibly work in. I tell that to the staff – you're working outside, in the grass, you're away from each other. We're out in the open field, making minimal contact with each other. Homemade materials is what we're using (due to difficulties finding supplies of disinfectant products) and we have soap and water in the trucks and bleaching down the equipment at least once a day. Making sure our staff is safe is the important part.
Thomas: We gave each of our staff their own safety kit and it included a mask, gloves, hand sanitizer and their own roll of toilet paper and their own roll of paper towels, so that when they need to use a washroom they don't have to use any of the products in those washrooms. And we gave everybody their own garbage bag. They take that every day and put all their stuff in it. Everything has to be wiped down at the end of the day, and our employees each have their own equipment, so when doing cleanups there are two rakes on a truck. One has a band of colour around it and that's one guy's rake and we don't touch it. We have only one person per vehicle except for two married couples who work for us. When a truck goes out, the second person is in his own car.
Landry: You have to try to figure out a way to apply social distancing. Things have gotten a little more relaxed in the past week or so. We can have a couple of people in a truck. They should be wearing a mask. I'm telling our members that one person in a truck is never wrong. If there's a situation where you have to have two, and sometimes you do if a truck is broken down and you have to pick up a driver or if you have to pick up a second vehicle, then you need two people in the truck to get there. You've got to use your own best judgment and bear in mind it's that six-foot thing that you really have to play with and work around. With vehicles, it's just as much about optics as it is with safety. That's where we get the most criticism. That's what people see on the road. If you see three people in the cab of a truck, your eyes go to the logo that's on the door. For the most part, people are finding ways to keep their employees safe because that's the key point
Are customers making any safety demands of landscaping personnel?
Thomas: Our customers have been incredibly trusting. The key for me is to get as close to your customers as you possibly can on an ongoing basis, and this isn't something new. You know who these people are and they know who you are. We haven't had anybody who has been questioning. They are very thankful and we've had many excellent compliments. They do want to be home in their yards. It's more important to them this year to be home and they can't do it themselves. They want their yard looked after and their garden to be good, and they look at us as people who can do that for them.
Draaistra: Our clients have been very receptive overall. We have to communicate with them as well and tell them we're taking this very seriously. We've sent out a number of emails and talked about what our plan was and the specifics of that. When meeting new clients, I arrive in the driveway, I text the person to come out, we social distance on the property and there is no contact made – no handshakes. They've been very receptive overall. We've also made sandwich boards that we put beside the door. On the sandwich board, it says we're on site and if you need us for anything you can call us.
Landry: We created some signage for our members, saying that there are workplace protocols in place on this site and to please stay back. I think for people walking by, that's the best message you can give them is that you aware there are protocols in place. I've heard of other members giving advice to their colleagues or their competition so that when they see three people in a vehicle, they've gone to them and say, "Look, do you realize the optics are bad here? Three people in a truck? Come on. It looks bad for you. It looks bad for me. It looks bad for the whole profession." These rules are in place, not just for the businesses, but for everybody working for this particular company, and that's been really well received.
What are your strategies to ensure continued safety if there is a second wave of this virus?
Draaistra: I'm assuming we'll continue social distancing for the next number of months. I think if we have a second wave, one thing I'll be doing to prepare is making sure we have enough disinfectant. If we had that right now, I think we'd have far less concerns. Otherwise it's business as usual. There's still lots of people who want to get work done. We've seen how some things work, so developing further protocols is something we need to flesh out as a company.
Thomas: For a second wave, timing might be on our side. I think we'll be so much further advanced – what worked, what didn't work, what do we need to worry about. Our people have also been educated about looking after themselves. Social distancing? I don't know if anyone is going to ever hug anyone again.
Landry: I think we've learned a lot from this first wave. The most devastating effect of a second wave may be financial – not to disregard the loss of life – but it's going to be how many times can we go through this and dole out money to keep the institutions and things alive. I think we've learned a tremendous amount from this and going forward it's going to help in a whole lot of different ways with companies having safety protocols in place that have never had them before.
How are you dealing with morale issues due to staff reductions or uncertainties among your staff?
Thomas: We did have three people who were concerned about coming back. One of them does have some occasional respiratory problems, so that was very understandable. We said right at the beginning that there was no pressure whatsoever to come back, and then we just went about making sure that our policies and safety procedures were going to be understood well enough and communicated well enough to them. Everybody is quite jovial right now and seem to be doing very well.
Draaistra: In the beginning, people were very afraid to come into work and very nervous about it. I think most of our staff are past that part now. Now we're breaking our huddles down into smaller huddles (early morning get-togethers as a team). The communication has not been the same at every huddle, so that part for me is a bigger struggle. I feel disconnected. Reassuring the staff as often as possible… if you think we need to be doing anything differently to protect yourself, let us know. If you think there is something else that we can be doing to make your work day safer, then we will do everything in our power to make sure that happens.
Landry: The first thing we did when we recognized there was some fear, the employers and employees both had to understand they had the right to refuse work. It should never come to that. The employer should actually just give them the option right off the bat – you don't have to come in if you feel uncomfortable if you fear you're going to bring it to the job or take it home from the job. We had no idea what to expect. A lot of people had the impression that if they went out of their house they stood a pretty good chance at getting sick, and at least in New Brunswick and P.E.I. we don't feel that way anymore. Maybe the hard part now is to keep people vigilant until we can be assured that a second wave isn't going to come rolling through as a result of some act or something we've created in our workplace.
---
Print this page