Turf & Rec is honouring eight deserving women in the Canadian turf and grounds maintenance industry who have displayed such qualities as hard work, leadership, innovation and mentoring abilities.
Eight women representing such industry sectors as landscaping, lawn care, golf and sports turf are being profiled in our March and April/May issues. Their recorded voices can also be heard in our four-part podcast series which is complete and online.
Below are profiles of our eight honourees.
Patricia Sloan
Golf course maintenance is in Patricia Sloan's blood. She got her first taste of the industry directly from her father, Rob, superintendent at the Cardinal Golf Club in King, Ont., when she was 14 years old. Although she worked for him during her summers while in high school, a career in the business didn't appear to be in the cards.
Sloan opted to study hotel and resort management in college but returned to the golf course to work "here and there." She ended up making her way to Whistler, B.C. to work in hotel management, but soon came to grips with her true love.
"Looking back now, I don't know what I was thinking about hotel and resort management," she said. "It seemed too easy to go into turf. Looking back, it was a bad call on my part."
The move to British Columbia didn't go for naught, however.
"I really fell in love with B.C. and knew I wanted to stay out in B.C. I just had to change from resort management to turf management."
Sloan found employment at the Whistler Golf Club and later at Sun Peaks Golf Course, where she was assistant superintendent. The seclusion of Sun Peaks and its comparatively shorter season – late May to September – didn't sit well with her, and she moved about 60 kilometres south to Kamloops to become the spray technician at the Kamloops Golf & Country Club where she applies all fungicides and herbicides to greens, fairways and clubhouse turf based on products superintendent Travis Olson prescribes.
"I was looking for something that was a little bit of a longer season and a little more year-round. That's what initially drew me to Kamloops."
Sloan cites a multitude of career highlights from her 17 years in the industry.
"I've had a lot of opportunities arise… as far as meeting other women in the industry, being part of the mentorship program (a program founded by Morgan Creighton, assistant superintendent at Airdie, Alta.-based Woodside Golf Course), and I was invited to North Carolina a couple of years ago for another women in turf event, so every opportunity that has been given to me has been great."
What Sloan said she enjoys most about her chosen career is the chance to work outdoors and the challenges that it can present.
"It's different every day. You wake up in the morning and you don't know what you'll walk into. It could be great, it could be bad, but either way it's going to be a good day."
For women who might be thinking about following in her footsteps, she offers this advice:
"My biggest piece of advice, and it's something I sometimes still struggle with, is the confidence that you're making the right decision, the confidence that you know what you're doing and feeling comfortable voicing your opinion and your thoughts – 100 per cent confidence."
Tracy Fowler
Like Sloan, Tracy Fowler's initiation into the golf turf industry came courtesy of a close relative – in this case an uncle who was, at the time, an assistant superintendent at the Hamilton Golf & Country Club.
Offered a summer job at the age of 15 at the Ancaster, Ont. private golf course, Fowler was handed a garbage bag on her first day of work and was sent to pull weeds from bunkers.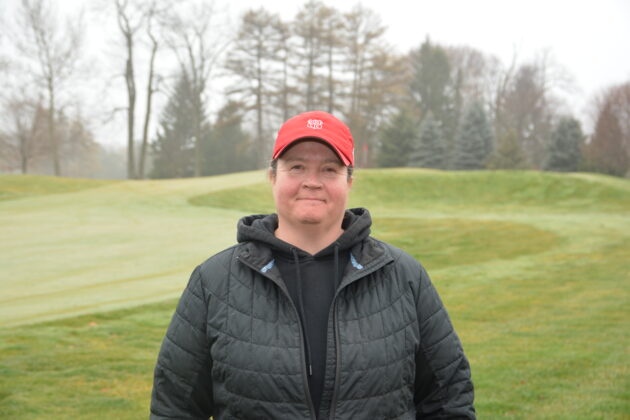 "I absolutely hated it," she recalled. "It was the worst two weeks of my life. All I did was work and sleep. It was so hot, and I was so tired that I wanted to quit, but I didn't want to disappoint. I stuck it out and thankfully I did."
She returned to work the next several summers, "and loved every minute of it."
The change of heart proved to be fortuitous. Fowler now counts 36 years of working in the golf industry.
On the road to her current position as an assistant superintendent at the Hamilton club, she worked a short time at the Brantford Golf & Country Club, where an assistant superintendent encouraged her to enrol in the two-year diploma program at the University of Guelph. Her 1994 graduation led to a return to the Hamilton club and an offer from former superintendent Rhod Trainor to join the staff as an assistant superintendent.
Fowler said she's been asked several times why she's remained in the same role at the same club for so many years, but she says she's happy where she is and doesn't relish the idea of a longer commute. She was born and raised in Ancaster, has parents who live nearby and has children attending a local school.
"I just put my head down and I worked. I've seen so many people come and go. Do I regret not moving on? Maybe some days. Do I think I should have tried something new? Maybe. I don't dwell on it."
Among the highlights of Fowler's career at the Hamilton Golf & Country Club has been her involvement in preparing the course for four Canadian Open tournaments on the PGA Tour. The club is the host venue again in 2024 for another Open.
"I enjoy most watching it through someone who's never experienced it before through their eyes," she said of Canadian Open course preparations. "It's one of the coolest things you've ever seen."
Another aspect she enjoys about her role as an assistant is to watch new hires rise through the ranks and perhaps move on to higher positions elsewhere, or to see young people join the staff, get married and have children of their own.
Fowler said one of the things she enjoys most about working at Hamilton is the camaraderie among the staff and how supportive the employees are of one another. There are no issues related to working with others who are mostly male, she says.
"We've got along just fine. We respect each other and work well together."
Jennifer Lemcke
Jennifer Lemcke also got an early start in the professional turf industry. She did some odd jobs for her father when she was 16, shortly after he purchased his first Weed Man franchise in Quebec.
Some years later, she and her then boyfriend, Chris (now her husband), purchased an existing franchise in the Ottawa area. Building the franchise several-fold over the next six years, they acquired more than 40 other franchises from company founders and owners Des and Brenda Rice.
Des died in 2018, and Brenda offered to sell the company to the Lemckes soon afterward. Today, Jennifer Lemcke is CEO of The Weed Man corporation and has worked full-time for the company in one capacity or another for 30 years.
Although the company was founded and remains headquartered in Canada, it began expansion into the United States in 1996. The venture into the U.S. market proved to be a shrewd business decision and one which has involved Lemcke's attention the most. She has led the U.S. expansion in franchising.
"I was just super focused on the U.S."
Today, The Weed Man is much larger in the United States than it is in Canada. The company has 245 licence agreement is the U.S., compared with 99 in Canada. Revenue-wise, U.S. sales are about $220 million and $89 million in Canada. The company services more than 600,000 residential customers across North America.
The Weed Man is focused on its core competency, Lemcke said, adding the relationship the company has built with its franchisees is one of trust.
"We're very laser focused on the franchisees' success, and it just works for us."
Working with both her father and husband are cited among her career highlights. Family, however, extends beyond them, she said. Six members of her staff have been working with her for 27 years while others have been co-workers for 10 to 12 years, creating a family-like atmosphere in which they spend time with each other outside of traditional business hours.
Working with others is what Lemcke says she enjoys most – "100 per cent."
Being a woman in a male-dominated industry is something that has worked out well for Lemcke, and other women can follow suit, she said.
"Don't just expect it. You've got to work hard."
She added women can't expect to be treated differently because of their sex.
"The industry needs to understand that we do bring a different perspective to the table. Bringing a woman in can bring a sense of difference and allow change to happen."
Women tend to be more creative in certain areas, more organized and more diligent toward detail, she added.
"In the end, you want to work somewhere that is accepting of you and that is going to challenge you. Don't take the challenges as a knockdown."
Brittany Sammut
Brittany Sammut entered the turf world as a summer student working for the City of Guelph while studying criminal justice public policy at the University of Guelph. As a member of the university's women's rugby team, which won the Canadian national championship during her final year, she developed an appreciation for sports field upkeep and fell in love with turfgrass.
Her summer work presented new opportunities, and Sammut was soon enrolled in the university's turf manager's short course to learn more.
"Not knowing anything about turf, I went in with full enthusiasm being one of two other women in the course, which I was shocked to see at the time," she said.
Sammut said the course proved to be a little intimidating for her, especially after choosing to drop all math and science courses in high school.
Completing the short course, however, opened new doors for her, and she soon found herself in a newly created position as Guelph's integrated pest management (IPM) equipment operator in 2019.
"It's a brand-new position. I take care of all the cultural practices, the overseeding, irrigation, aeration and topdressing, and take care of the specialized turf down at the Guelph Lawn Bowling Club."
Sammut was given the opportunity to build the IPM program as she saw fit. It was initiated to ensure Guelph's sports fields and other green spaces could be effectively managed amid Ontario's ban on several pest control products. She said the city's high-end sports fields warrant extra attention and require the pertinent cultural practices.
"I still feel like I'm a rookie. I definitely want more experience just to get that under my belt."
Getting used to weather conditions that tend to change daily is a challenge Sammut said she faces when trying to schedule cultural practices on city fields.
"There's limited time to get the lawn bowling (green) prepped every morning. We work 7 to 3, so it doesn't give us much time to get everything completed."
Morning work on the bowling green includes blowing off worm castings and leaf debris, and, with game play starting at 10 a.m., little time remains for cultural practices.
One day a month is set aside for spraying, dethatching and topdressing.
Despite the challenges, Sammut is enjoying her career.
"I absolutely love working outdoors and having the opportunities to meet and train new staff every season."
She said she also enjoys offering the fields' user groups the best possible playing conditions.
Sammut said the city fosters inclusion and diversity in its hiring practices, and she feels she's on equal footing with her male colleagues. About 52 per cent of Guelph's sports and leisure services employees are female.
Women wishing to enter the turfgrass industry should have an open and positive mind and be willing to ask lots of questions, she said.
"Try not to take the easy way out. Things can get complacent at times. Keep challenging yourself to accomplish more. Be adaptable because everything is constantly changing."
Julie Vonk
A career in turf wasn't on Vonk's radar in the beginning. She went to school to study interior decorating, "and then I decided I didn't like the whole dress pants, dress shirt, be nice to people all the time thing."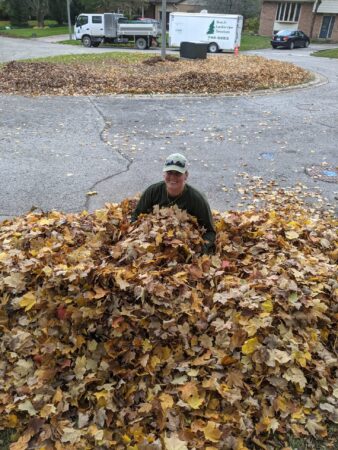 But a love of gardening and the outdoors was in her blood, and that led to a study of horticulture at London, Ont.'s Fanshawe College. Graduating in 2009, she worked initially at a garden centre before joining a garden company for almost 10 years. Her expertise in horticulture finally led her to Burch Landscape Services in Waterloo where she's "doing pretty much everything."
As a lead hand horticulturalist, Vonk heads up a team of two others – both women – but if there are garden installations to be done, she's in charge of up to eight people, including men.
"We're called Team Hulk because we pretty much destroy the guys' crews," she said. "We always have to help them finish their stuff, and they don't have any gardens to do."
Burch Landscape Services is a design/build, lawn maintenance, installation and snow and ice management company whose clientele is mostly residential with some commercial properties. Summer and winter services are provided to upwards of 100 residential properties in the Kitchener-Waterloo area.
The company's customers are mainly high-end residential homeowners who expect their lawns to be completely free of weeds.
"Which is fine, and that's usually why I'm the one who gets put on those specific properties because I let everyone else cut the grass and I go right to the gardens every week."
Vonk's goal is to have all trimming and dead-heading work meet her own personal standards which often exceed those of the customer's.
"Sometimes the customers will come out and tell me, 'Julie, it doesn't have to be perfect.' Yes, it does, actually."
One of the things she enjoys most is installing ponds and water features.
"You start with absolutely nothing, dig a giant hole – and it looks like all hell broke loose – and you end up with this beautiful water feature at the end."
What she enjoys most, however, are garden installations.
"Making something out of nothing is really rewarding. You just see a blank slate and then, all of a sudden, it's completely different. I like seeing customers' faces when they come out and say, 'Oh, my god. It's so beautiful.'"
Although Vonk and her two female crew members at Burch are outnumbered by the company's male complement, she doesn't feel intimidated. In fact, she said her male co-workers are "scared s**tless" of her.
"I've always worked with guys. My friends have always been guys more so than girls."
Words of advice she would offer to other women contemplating a career in the turf industry: "You cannot be afraid to get your hands dirty or work your ass off to get what you want. You can't just expect it to be handed to you because you're a girl."
Miranda Robinson
Like Vonk, a career in turf wasn't on Robinson's mind at the outset. As a summer student living in Ontario, she worked two summers at a General Motors manufacturing plant "and hated every single second of it. Being trapped inside was just terrible."
Two of her friends were working at a golf course at the time and persuaded her to follow suit.
"I went from about $30 an hour to $8 an hour, but I just fell in love with it (golf course maintenance)."
Robinson has remained in the golf industry ever since, and 2023 marks her 19th year in turf. Once getting a taste of a career in golf, her ambition was to ultimately become a superintendent, which she achieved while she was still in her 20s. Her first superintendent's job was at Whitetail Golf Club in Eganville, Ont.
"That was such a good feeling of accomplishment to be able to finally get to a place where I was at the top part of the food chain in that portion of turf maintenance."
Along the way, Robinson worked at Oliver's Nest Golf Club in Oakwood and Watson's Glen Golf Club in Pickering. From Whitetail, she moved on to Summerlea Golf Club in Port Perry to become its new superintendent and shortly afterward became consulting superintendent at Western Trent Golf Club in Bolsover.
"I was actually working at two different golf courses at the same time in a superintendent's capacity, but the best part was they were both owned and operated by women."
In more recent years, Robinson sought a change of scenery and moved west to work at the Cordova Bay Golf Club in Victoria, B.C. as an assistant superintendent. She gave up the position at the end of 2022, however, to begin a new career as operations manager for the British Columbia Golf Superintendents Association.
"I make whatever they need to happen happen."
She described her role as more member services-like while her predecessor had more of an administrative role. Her focus now is to grow the association. Robinson began her new position with the BCGSA on Jan. 1.
Although a key reason for her decision to move to British Columbia was the chance to spend more time outdoors in a more favourable climate, she said she's just as happy to be inside when it's raining or colder.
Robinson's propensity for getting injured on the job was a contributing factor toward taking on her new role with the association.
"I don't have an off button. I don't know how to slow myself down. I keep hurting myself because I work aggressively and get stuff done, and my body ends up paying the price for my brain's initiative. It's going to be really good to be able to focus on getting my body a little bit back to a better physical stage. I'm looking forward to that part of it."
Dr. Sara Stricker
A career in plant science wasn't Stricker's first choice when starting university. Her mind was set on becoming a veterinarian, but she quickly learned she couldn't stand the sight of blood. A university councillor helped to steer her toward studies in plant science, and a course in plant pathology helped sealed the deal.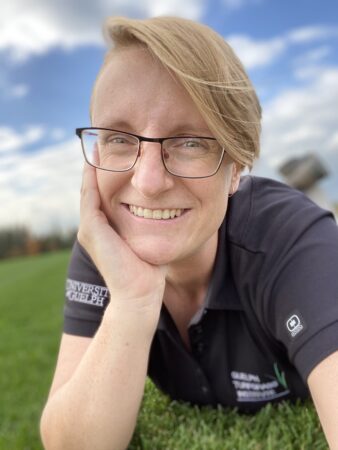 "I figured I could become a plant doctor," she said. "I could do the same thing with a patient that doesn't bleed."
Stricker worked with Dr. Tom Hsiang at the University of Guelph for both her undergraduate and master's degrees – the latter of which was a project to study potential climate change factors on creeping bentgrass and microdochium patch. She travelled to such locations as The Netherlands, Portugal and Seattle to share her well-received research with other industry colleagues.
Currently, she's the outreach and communications co-ordinator at the Guelph Turfgrass Institute (GTI), where she takes GTI research, translates it and communicates it to the industry. Her work at the GTI led to the creation of a podcast called <i>Canada Turf Talks</i> which highlights the different types of careers available within the turf industry.
"Anyone who's from the turf industry can listen to those and hear some words of wisdom and career advice. Hopefully it's something interesting for them to listen to as they're working on their day or going on a commute."
Stricker is chairman of the American Phytopathological Society's turfgrass pathology committee and is a junior board member with the Canadian Phytopathological Society. The organizations allow for the sharing of resources and information among turf pathologists.
The professional turfgrass industry is becoming more inclusive and more accepting than ever before, she said, adding women who might wish to consider a career in the industry need not be afraid.
"Historically speaking, there have not been as many women in this industry, but there's absolutely no reason with today's technology that a woman couldn't do what a man can do in turf management."
Stricker suggested women in the industry seek out mentors, noting a key adviser of hers is Dr. Katerina Jordan, associate professor of plant agriculture at the University of Guelph. Becoming a professor herself is one of her ambitions.
While unearthing new research and sharing it with others has been a career highlight for Stricker, it can also present a challenge at times when it generates pushback from the public, she said.
"Some people think maybe (turfgrass) isn't environmentally friendly or not worth the time or effort, but we have a lot of data and research to suggest that it can be very beneficial to the environment and very beneficial to our human health."
The naysayers are often unaware of the important role turf plays in erosion control, pest control and water management, she added.
Emily Nuttall
It was while watching a gardening program on television when Nuttall realized that a career in horticulture might be her calling. She was a college student at the time, taking such courses as psychology and sociology, but there was something about working with plant material that inspired her to seek a new career path.
"It felt like a silly idea at first when I was watching TV and saw a gardening show," she said. "It was like a switch turned on for me. I'm glad that I pursued that. When I first started, I barely knew anything. It just totally opened my eyes to the world of horticulture. There's so much more than what I imagined when I first started out."
Nuttall enrolled in a 10-month horticulture program which led to her first job at the University of Victoria, where she's been ever since. More recently, she was promoted to the position of irrigation technician after working five years as a sports field maintenance technician.
Her predecessor was promoted to supervisor last year, which opened the door for Nuttall to step into the position.
"I want to be very well rounded in every aspect of horticulture, so I thought this was a great opportunity to learn about irrigation. After doing it for one year, I've learned so much already."
In addition to looking after the irrigation needs of five University of Victoria campus sports fields – two soccer, two rugby and one multi-purpose field – she tends to the watering needs of all garden beds and lawns.
"There are times we'll jump in on the sports fields to help out, so it's a good mix of both. But right now, my focus is on irrigation."
Nuttall cites the opportunities to learn and grow with the help of her co-workers as a career highlight over the past eight years.
"Just the fact that I've been able to try out so many different things without having to change jobs and without having to change employers has been a highlight, and the people I work with are really awesome, too."
There have been challenges, however. She admitted math has never been her strong suit, but it's a vital component in the field of irrigation and was equally important during her previous work in sports field maintenance, especially when calibrating for fertilizing.
"Now I think I've gotten pretty comfortable with it."
One of the more enjoyable aspects of her career is the people with whom she works.
"I couldn't ask for a better crew. Everybody on the crew has a positive dynamic and everybody gets along quite well with each other."
Most of her colleagues are male, but she said she doesn't feel she's treated any differently from anyone else.
"I feel like I've had to find my voice a little bit and speak up if I find something doesn't seem totally fair or if there's something that doesn't seem quite right. But everyone is willing to listen and be open to discussion. I feel very fortunate to have that."
Her advice to other women who might be thinking of a career in turf: "Say yes to as many opportunities as possible. Anytime something like that is offered to you, take it. Don't sell yourself short. Remember that all women are equally capable of doing what everybody else can do."