Choosing the proper equipment is key to keeping turf at its best
May 21, 2021 By Nick Minas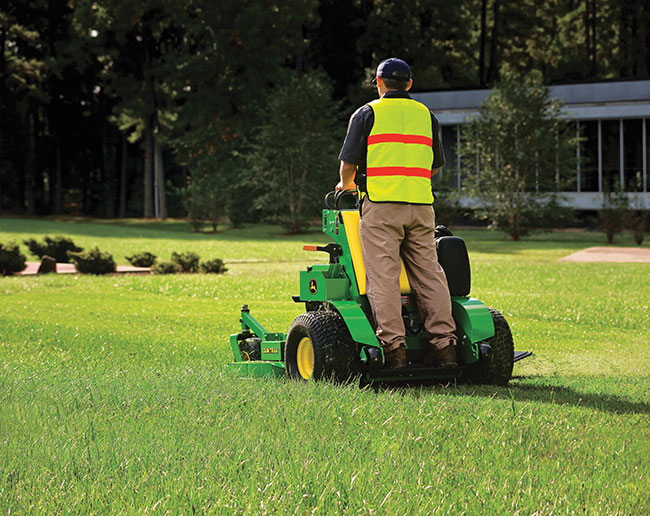 When it comes to picking out the right machinery for your operation, choosing the proper equipment is key to keeping turf at its best. That being said, there are a vast amount of property types and there are multiple machines designed to maintain these different grounds.
To help navigate through these various options, we will outline the different types of machines, the benefits of each, and best practices for keeping equipment running all year long.
First, you will need to determine what type of equipment is right for you. It is important to understand what your needs are to help ensure you are selecting the right machine for the job. What specific jobs are you trying to complete? For example, do you only want to cut grass with the machine, or are you looking to complete multiple tasks? Do you need specific attachments?
Two additional factors to consider when choosing a mower include horsepower needs and the terrain of the property on which you will be working. When thinking about machines designed to cut expansive areas of grass, most people opt for zero-turn radius mowers. Designed to be powerful cutting machines, zero-turn mowers allow the operator to quickly and efficiently manoeuvre through broad areas of grass. These mowers are also efficient in areas with a lot of objects to mow around, such as trees and landscaping.
Stand-on mowers
While zero-turn mowers are more dominant in the market, we have also seen great growth with stand-on mowers. A few factors play into a landscaper's decision to use a stand-on mower. Stand-ons are ideal for smaller properties and landscapers who want to fit several machines on one trailer. Unlike stand-ons, zero-turn mowers are larger in size and take up more space on a trailer.
Cost is also a factor, as stand-on mowers are typically less expensive than zero-turn mowers, so budget may be an overall decision-driver as well. The visibility and productivity of stand-ons are some of the other key benefits.
Another mower type worth considering is a commercial walk-behind mower, which are ideal for tight, narrower spaces or smaller yards. Walk-behinds are a great option for an equipment fleet because they are machines that are easy to manoeuvre, are compact and are versatile. Additionally, walk-behinds can tackle a variety of terrains, from hills to flat spaces, giving these mowers an advantage over other machine forms.
A popular choice for maintaining large acreage properties is a wide-area mower. Equipped with three mower decks, wide-area mowers have a larger cutting width than other machine options, which helps to speed up the total cutting time.
Front mowers are also a great solution for larger properties such as parks and recreation facilities, as these mowers combine manoeuverability with the ability to mow lots of grass. One factor that separates front mowers from other mowers is their multi-season capabilities, as these machines can be equipped with attachments to tackle other tasks, such as snow removal, giving owners more bang for their buck.
Compact utility tractors
Compact utility tractors have a reputation for being the Swiss army knife of equipment, as these machines can be transformed using a vast array of implements to tackle just about any task. From mowing and aerating, to blowers, blades, backhoes, and loaders, compact utility tractors are ideal because of the versatility of the machine.
Another important machine to consider adding to your lineup is a utility vehicle. Utility vehicles allow for easy transport of people, handheld equipment and materials across large properties. Utility vehicles can be a good option for any routine cleanup, such as grounds trash collection, and can be transformed with attachments and accessories to tackle other tasks, such as spraying and seeding.
Now that you've sorted through the different types of equipment, work with a dealer to determine the best machines for your needs. Once you have selected a piece of equipment, the dealer can help you navigate through the purchasing process and ensure you are choosing a financing method that fits your needs. Not only will the dealer help the customer determine the right equipment for their business, but most dealers can help simplify the financing process, especially if the manufacturer offers financial support.
The dealer can assist with more than buying a piece of equipment. In fact, professional landscape contractors should consider their dealer as an extension of their business, as they are just as invested in the business as the owner is. When speaking with their dealer, landscapers should discuss beneficial support offerings they provide. For example, some dealers have a mower loaner program that provides customers with a loaner machine to use when a mower experiences downtime. This ensures that the business never skips a beat, even when something unexpected happens.
Minimizing downtime
Once your machine has logged some hours on it, it is important to take care of it to minimize downtime. Each day before you start work, it helps to do a daily walkaround. Check for loose parts or worn belts that may need to be replaced and any leaks that would require immediate attention. Also keep an eye on tires – especially when winter rolls around – to ensure tires are properly inflated. Check the tire pressure and tread and add air or replace tires if needed.
Routine maintenance is crucial for keeping machines up and running. Reference your owner's manual, which will outline the maintenance schedule for each machine as well as the recommended types of fluid requirements. Consider working with a dealer to help with routine maintenance and keeping parts in stock. Many dealerships offer maintenance and parts packages to help streamline routine work and ensure that you have the right parts when you need them.
A potential option is a reoccurring delivery, which works in tandem with the parts management department to restock common parts onceV a minimum inventory has been reached. In addition, if you are financing a piece of equipment, depending on your financial institution, you might be able to wrap in parts and service as a part of your monthly payment, thereby streamlining costs.
As turf professionals, having the right equipment is pivotal to successfully maintaining grounds, from residential homes to commercial properties or parks and recreation facilities. While there are countless options available, it is important to work with a dealer to select the right machine for the property and tasks you would like to handle. Additionally, a dealer can be a great resource for maintenance and parts, helping to make routine work easier and more streamlined.
With the right machine and a plan, you will be ready to tackle any property, regardless of the size or terrain.
---
Nick Minas is go-to-market manager for John Deere.
This article is part of the Equipment Week
.
This article is part of the Fall & Winter Prep Week Week
.
---
Print this page