Features Profiles Women in Turf
Mentorship program gives women a good start as they enter turfgrass industry
Alberta assistant superintendent develops program to instill confidence in women starting out
May 2, 2023 By Mike Jiggens
As Turf & Rec continues to celebrate women in turf for a second consecutive issue, one notable woman has been working behind the scenes to ensure other women entering the industry are afforded an immediate sense of comfort and confidence.
This is especially important when newly hired women find themselves among the minority in a male-dominated industry.
Morgan Creighton, assistant superintendent at Woodside Golf Course in Airdrie, Alta., launched a program in 2019 to help relieve the fear that many women contemplating a career in turf might possess. Having a mentor to look up to is something she relishes, and she figured establishing a mentorship program might be beneficial to other women who might harbour certain reservations about joining a male-dominated workforce.
"For some of these women, there's no other female around them," Creighton said. "It's good just to be able to have people to turn to that have a different type of commonality."
The mentorship program has recruited a roster of more than 80 mentors, including golf course superintendents and assistants, educators and other women working in the industry. As of the spring, there were 21 female students involved in the program who are seeking mentorships. Those just entering the industry or who are still amid their post-secondary academic studies are paired with seasoned female professionals, giving them a chance to network and connect at an early stage in their career.
Although based in Alberta, the program is open to all young women across Canada while efforts are underway to offer mentorship opportunities to those in the United States as well. Creighton's role as co-ordinator of the program is purely voluntary, and she does everything on her own time.
The program began with about 60 mentors and six students and is operated via What's App and Zoom.
"Each of the students is paired into a mentor group, and each year when new students come in, they get paired into an already created mentor group. So that network's building instead of just creating individual groups for each student."
The mentored students have their own group chat as well as interaction with their mentor groups, "and that's kind of where the magic really happens."
Creighton said the students are supportive of one another and wish to see each other succeed. There are women in the students' group who have graduated from the program and have migrated to the mentor side.
Building a network of mentors
Establishing a network of mentors began with Creighton contacting other Alberta women she knew from the industry who were receptive to the program's mission. From there, she reached out to other provincial golf superintendents' associations to gauge interest from some of their long-standing female members.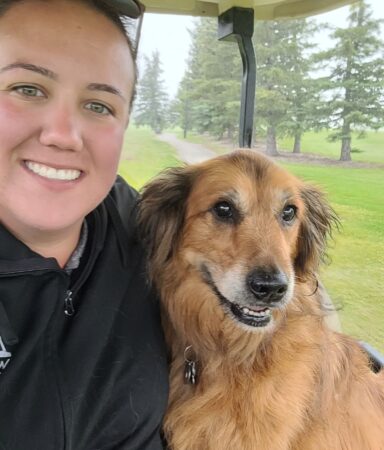 "Once I had a group of female contacts, I then created a Google form for them to fill out. It was kind of a personality test to see what they felt their strengths were and what their career path has been."
Creighton said when the students seeking mentorships were recognized, it allowed them to be aligned with mentors who could help them get work visas for internships in the United States or overseas.
Although there were some well-established women in the industry who turned down the call to be mentors – mainly due to time restraints or an incompatible lifestyle – the mentorship recruitment process was "very successful."
Due to the demands of the golf industry during the busy summer months, it can sometimes be challenging to maintain a steady conversation between mentor and student, she said.
"There's a bit of ebb and flow in there in trying to continue a conversation. The students love it so far – just the fact that they're able to meet so many different women, and especially since I've been able to host in-person events once again so that they can physically create that bond."
Through Zoom meetings, students within their own group discuss topics they'd like to address with their mentor groups. One of the biggest things they seek is the development of a network and getting to know others like them. They discuss common issues and find it beneficial to turn to someone else as a sounding board. Creighton said it's more of a gathering of opinions from people in the industry who can provide sound advice that might not necessarily be as professional as that coming from friends or family members.
She said that when she first began in the golf industry, an assistant superintendent at her first course encouraged her to study turfgrass management at Olds College.
"He was the person who made me fall in love with the industry."
Two of her Olds classmates were women, but she said often is the case when a student finds herself alone in a class of men. Creighton didn't have a mentor at the time which, she said, made it tougher for her.
Things are different now. She worked at a few other courses before joining the staff at Woodside in April 2021, and cites current superintendent Karen Rumohr as her mentor.
"She is absolutely phenomenal, and she's the one I turn to for everything. She's very level-headed and logical thinking. That really works with me and how I learn."
Born to be outdoors
Creighton grew in a "very outdoorsy" family and was mowing lawns and cutting trees at a young age. While in high school, she sought the type of summer employment that would allow her to work outside and not at a mall where some of her contemporaries found work. Landing a job at a golf course was right up her alley. She said being an early riser allowed her to finish earlier in the afternoon, leaving her the rest of the day for herself. After finishing high school, however, she thought a career teaching school was her calling, but after only one year of study, "I realized I didn't want to be inside full-time to teach. I wanted to be outside. I wanted to be on a golf course."
After graduating from Olds, she took a brief hiatus from golf for a municipal job in turf and forestry, learning new skills in tree maintenance and being able to identify hazard trees and how to safely remove them.
"I wanted to get back to a golf course after a couple of years there," Creighton said, noting her journey took her to a nine-hole course near the Rocky Mountains and a 45-hole property along the Elbow River in Calgary before landing at Woodside.
Creighton has faced several challenges throughout her career in golf, including working with men who were disrespectful to women.
"There was a point in my career where I was harassed daily," she said. "I can withstand a lot and I can take a lot, but then I saw the person doing it to a kid – a 16-year-old who was just a summer student – and I wanted to do something because I couldn't let that happen. I went to HR (human resources) and it made it worse. It got to the point where it was easier for me to walk away and leave than it was for me to continually put myself in that position."
Creighton said that incident from her past – which left her in "a deep depression" – was among the deciding factors that inspired her to take the "leap" toward helping other women.
She was one of 50 women who attended Bayer's inaugural "women in golf" event in Raleigh, N.C., and said having so many women come together and support one another was a positive experience and helped her found a Canadian-based mentorship program.
"We're in a day and age where it's unacceptable to be in a non-inclusive and derogatory environment. Things are slowly turning for the better."
To contact Creighton for more information about the mentorship program, email her at morgan@woodsidegc.com.
---
Print this page