Product News Equipment
Disc mulcher attachment for skid steers is lighter, stronger
April 26, 2022 By Loftness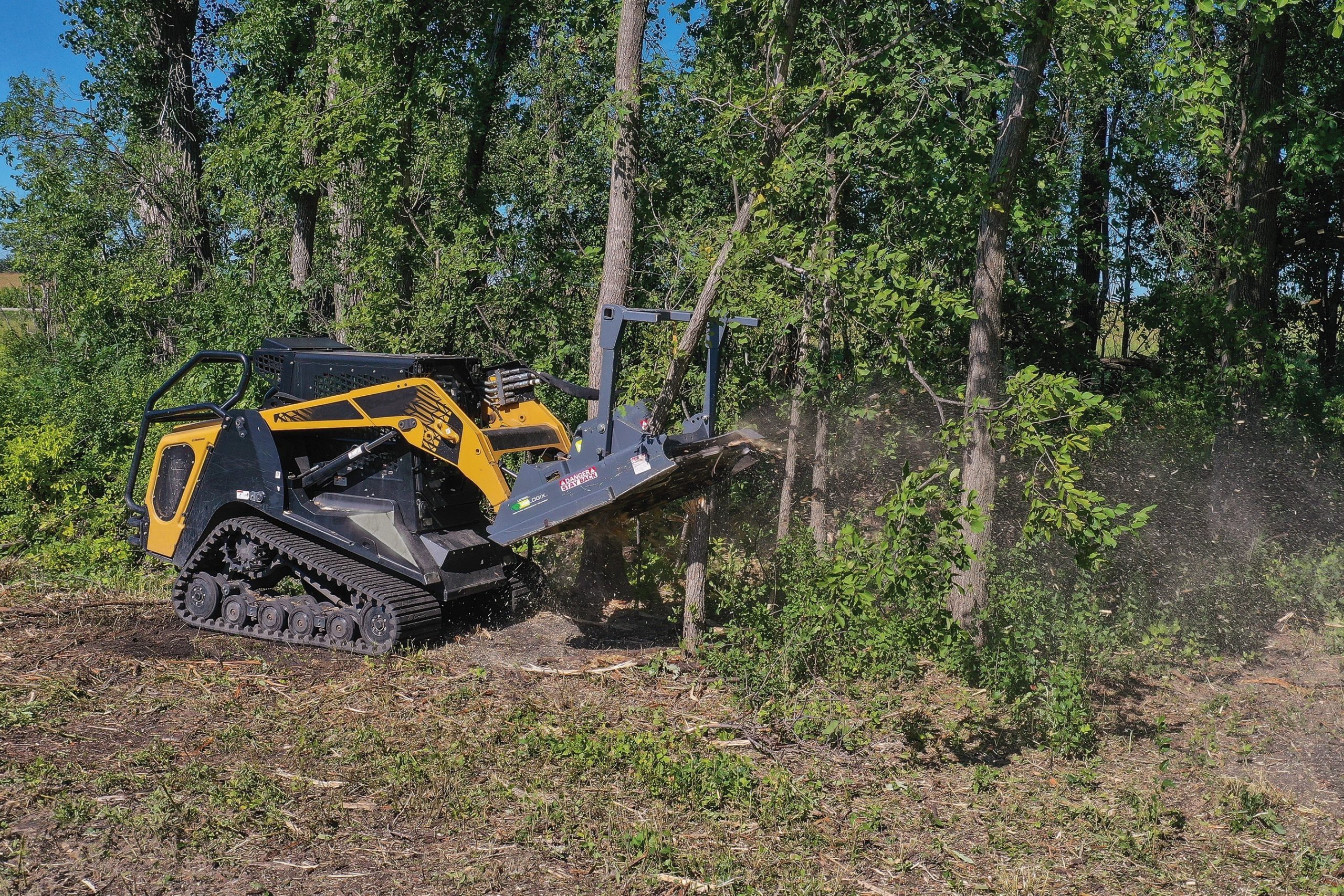 A lighter and stronger version of the Bad Ax disc mulcher attachment has been updated by Loftness for use in skid steer loaders.
Featuring improved machine balance and upgraded performance, the new Bad Ax weighs more than 400 pounds less than the original model and is positioned approximately five inches closer to the power unit for improved balance, stability and flotation of the skid steer. Despite the lighter weight, engineering improvements have increased the durability of the unit through updates to the steel housing and a larger diameter main shaft.
Performance has also improved on the Bad Ax disc mulcher, thanks to a new radial piston high-pressure motor, which provides full torque capability at start-up for fast recovery time. Additionally, a redesigned intake has increased performance by offering better material flow through the unit.
Similar to the original model, the new Bad Ax is equipped with a fully machined 60-inch-diameter disc designed to cut trees up to 14 inches in diameter. Because the disc contains no welds, there are no areas subject to stress cracking.
The housing features a re-cutter bar along with counter teeth to hold material in place while it is being mulched. This exclusive design allows the unit to cut the material into finer particles than competitive products are capable of producing. It also helps avoid log jams in the chamber, which can be extremely difficult to remove in other units.
Ultra-sharp, heat-treated steel Quadco blades are used to effortlessly slice through vegetation, as opposed to shredding and tearing material. The blades can be sharpened or rotated on site to keep a fresh cutting edge and maintain machine efficiency. The blades are mounted to the disc with a single hex bolt for easy removal. The bolt-on mounts can also be replaced in the field without the need for cutting, welding or rebalancing the rotor.
Also unique to the Bad Ax is a housing design with parallel sides that provides enhanced control over funnel, or V-shaped, disc mulchers. The front of the housing is angled, allowing the teeth to mulch at ground level. Furthermore, a rigid discharge deflector offers more control of material discharge than competitive hinged deflectors.
Other standard features include an integrated pressure gauge, an adjustable tree-pusher bar with welded claw hooks, and anti-wrap bearing protection. The Bad Ax requires 70 to 120 hydraulic horsepower to operate.
For more information, click here.
---
Print this page