Product News
Cat upgrades its utility vehicle line
November 16, 2018 By Mike Jiggens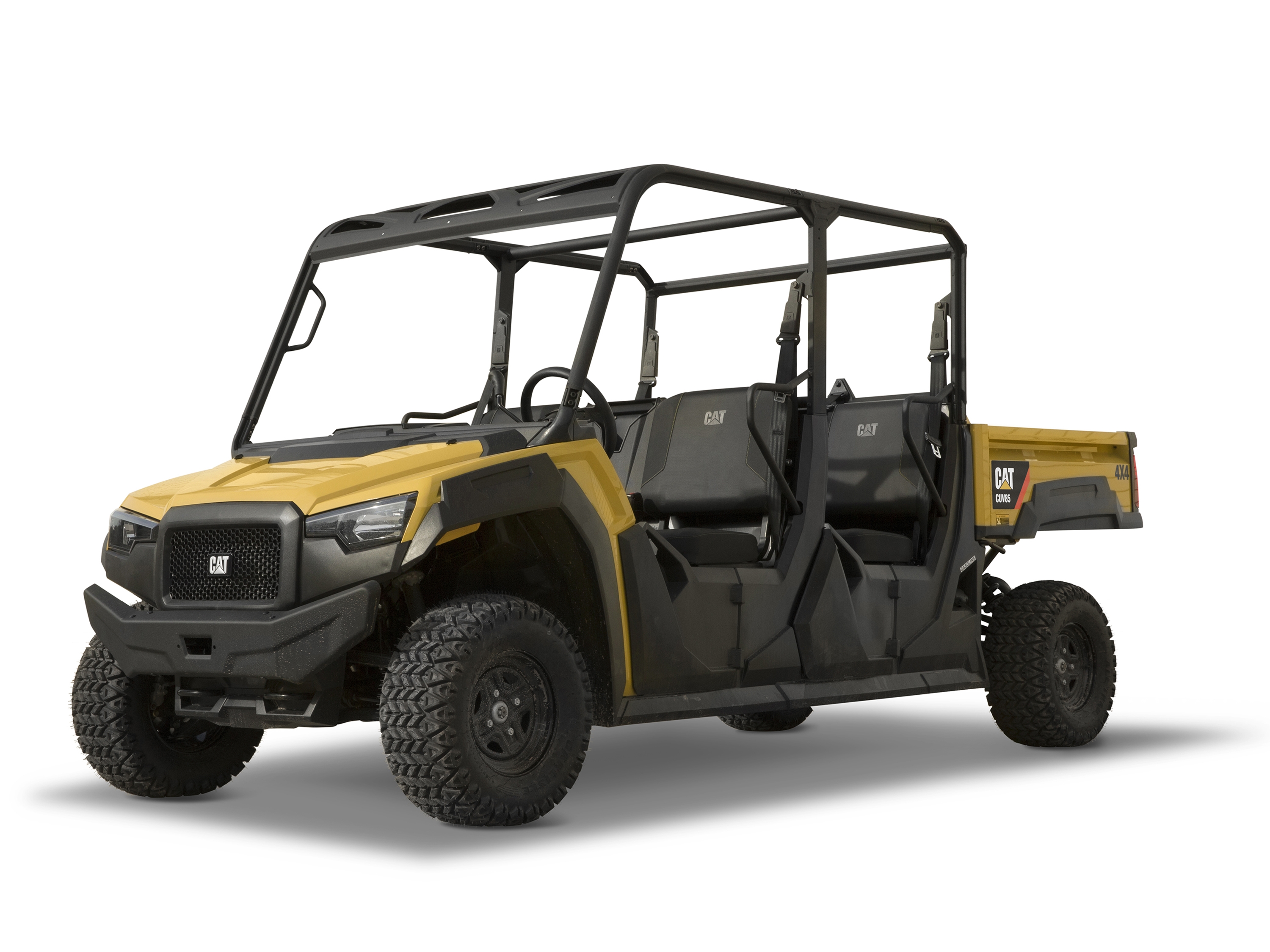 Nov. 16, 2018 – Caterpillar's recent foray into the utility vehicle market has taken another step forward. The company has since introduced its gasoline-powered Cat CUV85 and diesel-powered CUV 105 D models. 
Both models were introduced to the industry media this week at a Caterpillar press briefing in Peoria, Ill. The vehicles feature a spacious second row of seating to accommodate five people. Caterpillar gathered extensive customer and dealer input to build a UTV that delivers the durability, comfort and maintenance simplicity requested. Rigorous vehicle testing ensures both utility vehicles meet customer quality and reliability expectations.
The CUV85 and CUV105 D feature a rugged steel cargo bed and offer 1,000-pound (454-kg) total rear cargo capacity and 2,000-pound (907-kg) towing capacity for outstanding performance in a variety of applications. These Cat UTVs deliver a premium experience at a competitive price.
Built to work
The new CUV85 and CUV105 D utility vehicles feature a four-wheel independent suspension system with a front sway bar to provide top stability at full load. A long swing-arm suspension, custom-tuned springs and shocks deliver a balance between a smooth ride and hauling loads. Ample ground clearance ensures these vehicles navigate rough terrain with ease.
The Cat UTVs efficiently complete hauling tasks, quickly maneuvering over rugged terrain at the worksite at speeds reaching 45 mph (72 kmph), depending on model. The CUV85 is powered by a 0.8L three-cylinder gasoline engine, delivering 50 hp (37 kW), while a 1.0L three-cylinder diesel engine delivers 25 hp (18.7 kW) power to the CUV105 D.
Features such as smooth acceleration, clear sightlines and engine braking capability make the Cat UTV well suited for hauling and towing. The intuitive column shifter allows the driver to easily maneuver through all the gears. Both models feature a continuously variable transmission, tuned specifically for work applications, offering smooth transitions and the ability to handle loads. The choice of two-wheel drive, four-wheel drive or four-wheel drive/lock modes permits the driver to match vehicle drive to ground conditions.
Quiet and comfortable operation
Cat UTVs are built for quiet and comfortable operation all day long. The design minimizes noise and vibration during operation for a quieter ride. Spaciousness was an important variable when designing the UTVs. The CUV85 and CUV105 D comfortably seat five riders with copious leg, elbow and headroom for taller riders.
Driver and passenger seats are both sewn for comfort as well as durability, plus the driver's seat position and steering wheel adjust to ensure a comfortable fit. Ample behind-the-seat storage and document holder provide space for personal items and gear. Passenger seat bases can be removed and stowed behind the rear seat back to create floor space for hauling oversized items.
Easy to operate and customize
Driving ease and comfort are hallmarks of the new Cat UTV experience. Electric power steering provides superior handling and tight turning capabilities. The instrument gauge offers easy viewing of critical operating information such as ground speed, engine speed, operating hours, odometer, battery voltage, and engine temperature and fuel level.
Customers can customize their Cat UTVs to meet specific work needs through more than 50 accessory options. Multiple cab options with sealed surfaces on the ROPS structure provide a weather tight enclosure, while other offerings include backup alarms, heater, front winch and work lights. Cat UTVs are prewired for quick do-it-yourself installation of all options.
Easy service, superior dealer support
Easy access service points simplify vehicle maintenance, while on-board advanced diagnostics reduce troubleshooting time. The new CUV85 and CUV105 D UTVs will be backed by unmatched service and support from participating Cat UTV dealers. Participating Cat dealers can help with anything from simple maintenance questions, to accessory selection, to on-site support. These UTV models will be available throughout Canada and the United States except Quebec and California.
For more information, visit www.cat.com/requestCatinfo.
---
Print this page